2002 Ford Mustang in Rockford, Illinois For Sale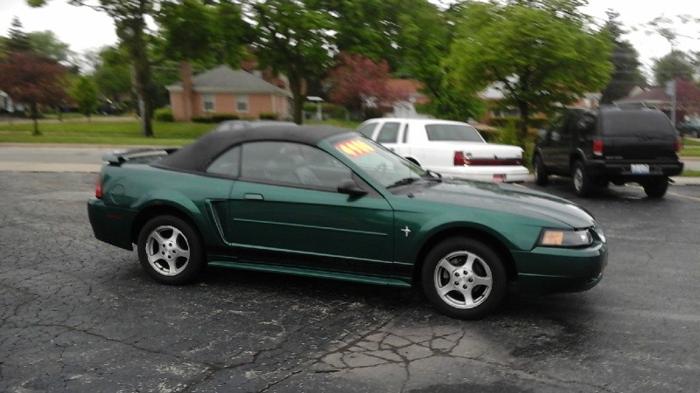 Price: $3,900
Seller:
Type: Cars, For Sale - Private.

CUMBERLAND AUTO SALES
(847) 331-xxxx
xxxx Ford Mustang
xxxx Ford Mustang
Green / Black
120,000 Miles / VIN: 1FAFPxxxx2Fxxxx08
Contact George Zervos at CUMBERLAND AUTO SALES
at 410 E. NORTHWEST HWY DESPLAINES, IL xxxx6
Call (847) 331-xxxx Visit our website at CumberlandAutoSales.v12soft.com
Vehicle Specs
Year
xxxx
Make
Ford
Model
Mustang
Trim
Miles
120,000
Factory Color
Black
Body Styles
Coupe
Doors
2
Engine
6 Cylinders
Transmission
Automatic
Drive Type
Rear Wheel Drive
Inventory ID
91
Description
For immediate attention call John cell - 847-306-xxxx or George 847-331-xxxx
The forest Green Ford Mustang convertible is priced right and ready for you to enjoy the summer. Runs great with black leather interior and a nice stereo system. Everything works perfectly including ice cold air conditioning.
Photos
Ad Generated By www.V12Software.com

2007 Dodge Charger
2009 Scion Tc .. Clean inside out. We accept bad credit, no credit,repos,collections,short time on the...
Price: $7,995


2008 honda crv
Honda CR-V LX AWD 4dr SUV Automatic 5-Speed SILVER 137052 I4 2.4L I42008 SUV Regional Auto Group (773) 804-6030
Price: $10,995


2006 mazda 6
Mazda MAZDA6 i 4dr Sedan Automatic 5-Speed MAROON 122571 I4 2.3L I42006 Sedan Regional Auto Group (773) 804-6030
Price: $5,995


2003 Hyundai Santa Fe
Nelson Automotive Inc (847) 439-2277 1801 S Busse Rd heycars.com Mount Prospect, IL 60056 2003 Hyundai Santa Fe Visit...
Price: $5,000


2007 Chrysler PT Cruiser
Dugry Auto Group 4701 W Lake Street Melrose Park, IL 60160 (708) 938-5240 2007 Chrysler PT Cruiser Yellow / Gray...
Price: $3,995


2007 lexus rx350
Lexus RX 350 Base AWD 4dr SUV Automatic 5-Speed Blue 0 V6 3.5L V62007 SUV Regional Auto Group (773) 804-6030
Price: $10,995